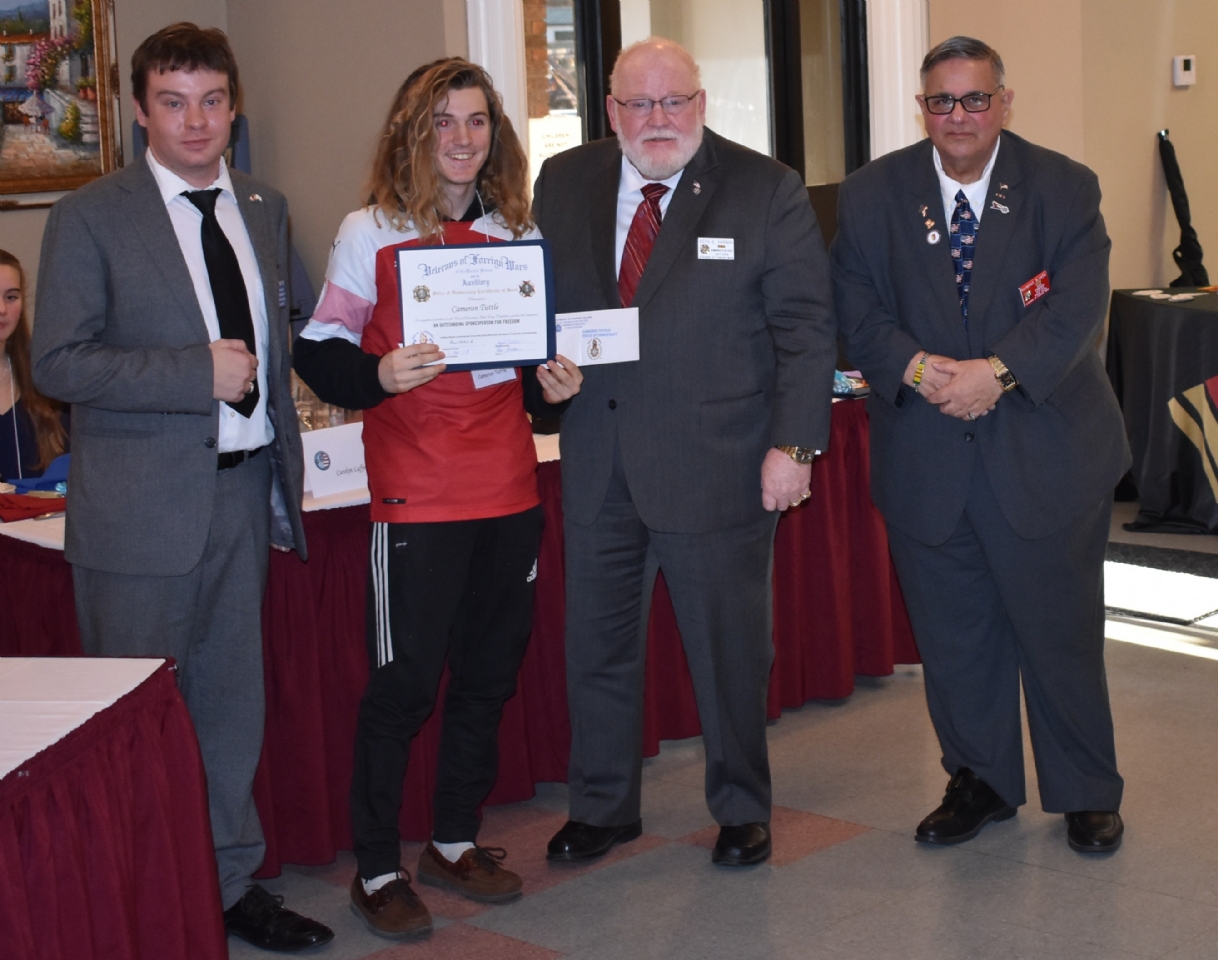 L to R Scott Jamison RI VFW Auxiliary President, Cameron Tuttle of Jamestown, Keith Harmon Commander in Chief VFW of America, Ray Blanda Commander RI VFW
North Kingstown HS Student Places 2nd in VFW of RI Voice of Democracy Contest
North Kingstown RI- Cameron Tuttle, a junior at North Kingstown High School, placed second in VFW of Rhode Island award in the 2018-2019 Voice of Democracy Scholarship program. VFW Post 152 in North Kingstown, sponsored Cameron Tuttle a resident of Jamestown RI. Cameron submitted the audio essay through his US History Honor's class taught by Ms. Serena Mason.
"The Voice of Democracy competition provides high school students with the opportunity to speak out on freedom and democracy," says VFW Post Commander David Ainslie. "The program has been popular and successful since its beginning in 1947, and we're proud to keep offering it to America's young people."
The Voice of Democracy is a worldwide audio-essay competition that requires entrants to write and record a three-to-five minute essay on a patriotic-based theme. "Why My Vote Matters" was this year's theme.
Over 250 Rhode Island students participated in the competition this year. The three Voice of Democracy District winners were honored at an awards Banquet Saturday. With Cameron 2nd place win he is the recipient of over $500 in scholarship funds. He was also presented a Certificate of Special Recognition from RI Director of Veteran Affairs Kasim Yarn on behalf of Governor Gina Raimondo.
The National Association of Broadcasters (NAB) started the Voice of Democracy Scholarship program in 1947. The VFW became a national sponsor in the late 1950s and assumed sole responsibility for the program in 1961. The competition was created to provide students grades 9-12 the opportunity to express themselves in regard to democratic ideas and principles. Around 40,000 students participate in the competition each year and VFW awards more than $2.1 million in scholarships every year.
Established in 1947, our Voice of Democracy audio-essay program provides high school students with the unique opportunity to express themselves in regards to a democratic and patriotic-themed recorded essay. Each year, nearly 40,000 9-12 grade students from across the country enter to win their share of $2.1 million in educational scholarships and incentives awarded through the program.
The national first-place winner receives a $30,000 scholarship paid directly to the recipient's American university, college or vocational/technical school. A complete list of other national scholarships range from $1,000-$16,000, and the first-place winner from each VFW Department (state) wins a minimum scholarship of $1,000 and an all-expense-paid trip to Washington, D.C. Want to apply? Read
the rules and eligibility requirements
, then download and
complete the 2019-20 entry form
. All student entries must be submitted to us by midnight, Oct. 31.
The 2019-20 theme is:
What Makes America Great
About the 2018-19 winner ...
Christine Troll, a senior home-school student from Somerset, Pa., was named the 2018-19 Voice of Democracy first-place winner. Christine's speech on the theme, "Why My Vote Matters," won her a $30,000 college scholarship. Christine was sponsored by VFW Post 554 and its Auxiliary in Somerset, Pa.
Watch as Christine delivered her winning speech.