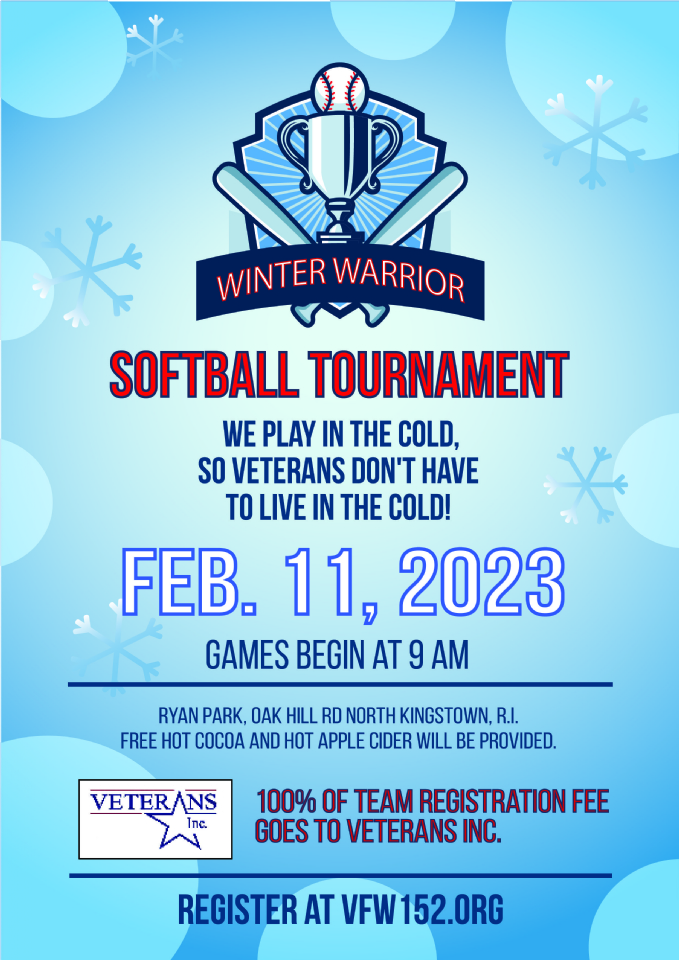 We play in the cold, so veterans don't have to live in the cold!
This event is designed to raise money to be donated towards
Veterans Inc
, an organization that works directly with homeless Veterans within the state of Rhode Island. Participants of the event play an abbreviated version of Softball double-elimination tournament-style. Veteran Organizations, churches, actual softball teams, and other community members are welcome to attend.
The games are six innings each, and the batter steps up to the plate with two strikes to accommodate the number of teams/participants (also, it is February, and we are not athletes). The tournament winner does receive a trophy at the end of the day. The cost of the trophy, balls, spray paint, or any other items do not come out of the money raised; nothing does.
The full 100% of the money raised is donated towards Veterans Inc. Each team donates $200 towards the event.
TO REGISTER: Donate to our PayPal page and on the final 'Donate Now' page at the top under "Add a note," type in Winter Warrior and the name of your team.
The first game starts at 9 a.m. on Feb. 11, and all games will be at Ryan Park Fields Oak Hill Rd, in North Kingstown. Teams are welcome to seat up pop tents for warming in between games. Free hot cocoa and hot apple cider will be provided.
We are inviting local businesses to join us in our mission to end Veteran homelessness. Businesses that donate are welcome to secure a banner to our fence during the game, receive an honorable mention on our social media outlets, and be mentioned in our newsletter once the event is complete.
Tournament Rules:
*Bats need to be Dual Stamped for both USSSA and ASA/USA Softball approved. USSSA approved bats need to have the current approval stamp, the old stamp is not allowed. These are 2 of the major governing bodies for softball.
*Each batter starts with a 1 and 1 count upon entering the batter's box. (1 Ball/ 1 Strike).
*Each Team is allowed 1 Home Run per inning. Any HR during the same inning is an automatic out. Any runner on base at the time is also an out.
*Each Team is responsible to provide 5 decent game balls. (Does not need to be new).
*Each team is responsible for keeping track of the score.